The Memo: 3 Apr—9 Apr 2023
The Memo's latest issue summarises significant security news from Apr 3-9, 2023: gunrunner clashes in the Southern Philippines, terrorism arrests in Indonesia, train arson in India, and Pentagon leaks on Discord.

In brief:
Philippine government forces clashed with suspected gunrunners believed to support the pro-Islamic State Maute Group.
Densus 88 arrested 4 Uzbek terror suspects associated with the pro-al-Qaeda Middle Eastern terror group Katibah Tauhid Waljihad in Indonesia.
An individual set fire to fellow passengers on the Alapuzha-Kannur Express in Kerala, India, resulting in 3 deaths and multiple injuries. The incident is being investigated for links to terrorism.
Leaked documents from the Pentagon suggest extensive infiltration by the US into Russia's security and intelligence services, with details on planned attacks in Ukraine, including specific targets.
1. Counterterrorism updates in Indonesia and the Philippines
i. Philippines
In Lanao del Sur, Philippine government forces clashed with suspected gunrunners who were believed to be supporters of the pro-Islamic (IS) State Maute Group, resulting in the death of three individuals and the arrest of seven others, as well as injuries to a soldier (Fig. 1). The group was allegedly involved in gunrunning and drug trafficking and supported Dawlah Islamiyah-Lanao, an affiliate of the Maute Group. As a result, the authorities seized many weapons and drugs from the group.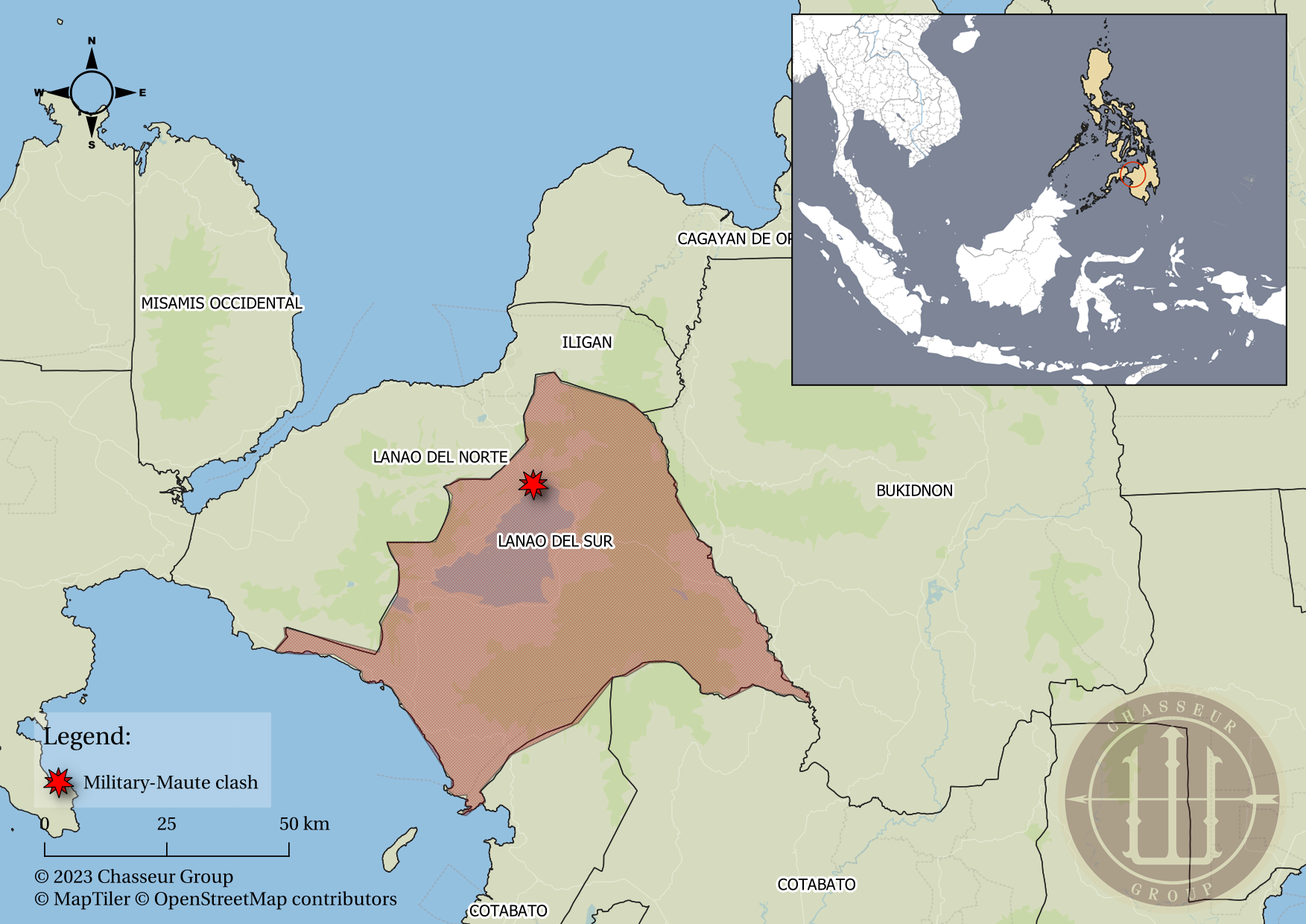 Why it matters: Maute Group is notable for laying siege to Marawi City in 2017, which was later recaptured by government forces. The Philippines' security forces have exhibited their ability to combat militant operations in the maritime space with military operations that have sustained pressure on the IS-linked group in the region. Consequently, this has led to the demise of key senior members, decreasing their activities. However, authorities must remain vigilant as groups may displace to different launching points to continue with their illicit activities. The discovery of the Abu Sayyaf Group safehouse in Beaufort, Sabah, asserts this likelihood. Therefore, continued efforts and adaptation to changing tactics are necessary to maintain gains and manage maritime security while preventing militant resurgence.
ii. Indonesia
Indonesia's counterterrorism force, Densus 88, arrested four Uzbek terror suspects associated with the Middle Eastern terror group Katibah Tauhid Waljihad, which is connected to al-Qaeda, and operates primarily in Syria. According to reports, three of the suspects were engaged in terrorist activities through social media propaganda, while the fourth provided financial support and forged documents. The suspects travelled to Indonesia through Istanbul, Abu Dhabi and Malaysia.
Why it matters: Uzbekistan's security forces have detained numerous suspected militants who have links to extremist groups in Syria, resulting in a decline in recruitment efforts. Uzbek-speaking militants joining terrorist groups in Syria decreased in numbers due to high-profile arrests, including Uzbek leader Abu Saloh al-Uzbeki in 2020. Persistent military action in Syria to prevent resurging insurgencies following the Caliphate's demise and intensified anti-terrorism efforts in Uzbekistan provoked by the heightened risk posed by ISIS-K in Afghanistan may have compelled these individuals to seek a safe haven in Indonesia temporarily or permanently.
2. Terrorism-related incidents in South Asia
A 27-year-old man, identified as Shahrukh Saifi, had set fire to fellow passengers on the Alapuzha-Kannur Express in Kerala, India, causing the death of three people and multiple injuries. The country's National Investigation Agency and Intelligence Bureau are investigating the incident for conspiracy and links to terrorism. Saifi has been charged with murder, and there is suspicion that he had intended to set the entire bogie on fire and kill everyone on board.
Why it matters: The motives behind the recent Kozhikode train attack are unclear, given that the investigation is ongoing, with the police scrutinising Saifi's phone records, travel history, and possible assistance in planning the attack. Despite claims that it may have been communal violence, it may not have any basis, as most of the victims were Muslims, and the perpetrator was Muslim. However, the attack is reminiscent of the 2002 Godhra train burning, which catalysed the Naroda Patiya pogroms, emphasising the persisting vulnerabilities of public transportation and how their safety and security are frequently disregarded.
3. Updates on Russia and Ukraine conflict
The recently leaked documents seemingly from the Pentagon suggest that the United States has extensively infiltrated Russia's security and intelligence services. These documents contain quick and accurate details on Moscow's planned attacks in Ukraine, including specific targets. Moreover, the documents revealed classified information about CIA's human agents, who have access to confidential conversations of world leaders, and the advanced satellite imagery used to surveil Russian forces, which is rarely attributed to the public. The leak resulted in an investigation being launched by the Justice Department.
Why it matters: The Ukrainian government has dismissed the leak as a Russian propaganda tactic, but experts believe the leaked intelligence briefs are authentic. The damage caused by the leak is still being assessed. Still, it could have significant implications for Ukraine's war efforts by revealing the Russian agencies that the US is most familiar with. In addition, this incident underscores the risk of insider threats. It highlights the emerging trend of gaming communities as data-dumping platforms for sensitive government documents, as previously illustrated by the War Thunder controversy. Even though the possibility of a counterintelligence operation cannot be ruled out, the incident highlights the importance of monitoring and mitigating insider threats.
Please feel free to share The Deep Dive with your colleagues. In addition, we would appreciate it if you could consider becoming a free or paid subscriber once we introduce our tiered subscription packages to support our publication. Your support will help us continue providing valuable insights to assist you in making operational decisions.