The Memo: 20 Mar—26 Mar 2023
In this week's edition of The Memo, we cover a wide array of security topics from March 20—26, 2023, including counterterrorism efforts in the Southern Philippines, the unsuccessful mercenary objectives in Ukraine, and a Congressional hearing addressing TikTok data privacy and security concerns.

More BIFF members turned themselves in to the authorities in Maguindanao del Norte, the Philippines.
Alleged BIFF gunmen killed one soldier during a drive-by shooting at a checkpoint in Maguindanao del Sur.
Three alleged members of Dawlah Islamiya were killed during a military action.
Yevgeny Prigozhin is curtailing operations in Ukraine due to setbacks enforced by Russian military chiefs and is predicted to shift his attention toward Africa.
Russia deploys old T-54 tanks in Ukraine, while Putin plans to place tactical nuclear weapons in Belarus in response to the UK's aid to Ukraine.
TikTok CEO Shou Zi Chew appears before a Congressional hearing as US legislators consider banning the platform due to privacy and national security concerns.
1. Counterterrorism updates in Indonesia and the Philippines
Twenty-two Bangsamoro Islamic Freedom Fighters (BIFF) members have voluntarily surrendered to local authorities in Maguindanao del Norte province (Fig. 1). Among those who turned themselves in were two men who were alleged leaders of Sali Group and Tonday Group, both known private armed groups in the province. They also relinquished their high-powered weapons. In addition, one unnamed individual surrendered in exchange for returning to a normal life with his family.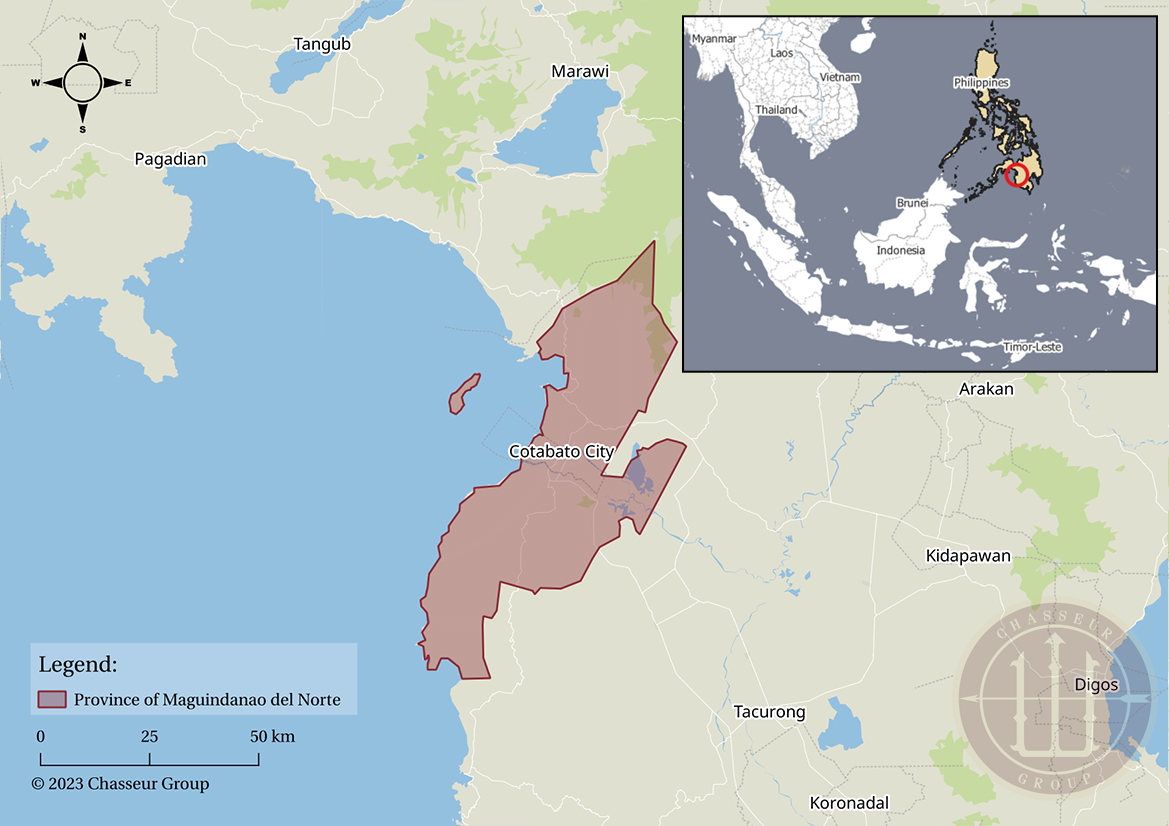 Meanwhile, gunmen in a minivan conducted a drive-by shooting in Mamasapano, Maguindanao del Sur province (Fig. 2), resulting in the death of one soldier and the wounding of another, along with a civilian. The incident took place at a checkpoint in Barangay Libutan. Authorities suspect that the attackers, believed to be BIFF members, were retaliating for the recent death of BIFF's Karialian faction subleader, Abdulkarim Lumbatan Hashim, aka Commander Jacket.
In response to the ambush, military forces attacked BIFF positions in the marshlands near Pagalungan, Datu Montawal, and Pikit (Fig 2). Three alleged members of Dawlah Islamiya, identified as Samsudin Miro, Kamid Sindatu, and Mohaimen Salik, were killed during the military assault.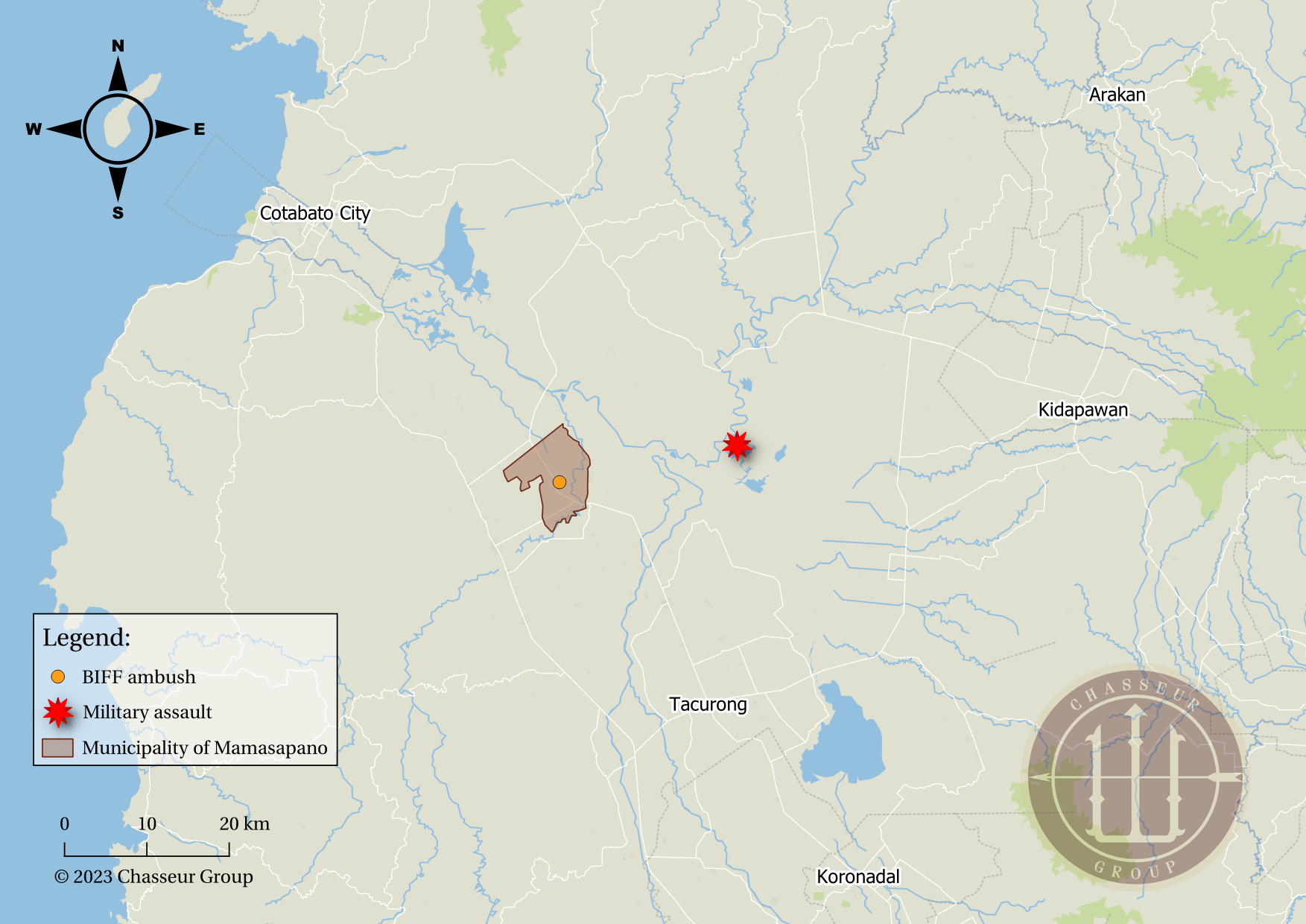 Why it matters
The persistent trend of surrenders indicates that continuous military actions have effectively weakened militants, impeded their activities, and curtailed their resource access in the southern part of the country. Moreover, the revenge attack following Commander Jacket's death, serving as a feeble display of capacity, further underscores BIFF's declining abilities and inability to deter security forces. As ongoing military operations undermine pro-IS factions in the region, militant groups may seek alternative approaches to sustain their activities and replenish their membership.
2. Updates on Russia and Ukraine conflict
Yevgeny Prigozhin, the founder and proprietor of the Wagner Group, is scaling back operations in Ukraine following constraints imposed by Russian military leaders on his recruitment from prisons and access to munitions supplies, which has strained his forces. Prigozhin is anticipated to redirect his attention to Africa after struggling to make significant advances in Ukraine.
Recent reports suggest that Russia has resorted to using antiquated T-54 tanks in Ukraine, as sanctions have led to a scarcity of available modern tanks. Concurrently, media sources also report that Russian President Vladimir Putin has declared his intention to position tactical nuclear weapons in Belarus in response to the UK's recent decision to supply Ukraine with armour-piercing rounds containing depleted uranium (DU) shells.
Why it matters
Prigozhin's longstanding alliance with Putin has given rise to tensions within the Kremlin due to his display of independence. The Wagner Group's setbacks in Ukraine could affect his political ascent. Simultaneously, Russia's use of T-54 tanks from storage highlights its broader strategy of seeking victory through numerical superiority amid challenges to supply its military with contemporary armoured vehicles due to sanctions. Additionally, it is crucial to note that Putin's alleged deployment of nuclear weapons in Belarus is not a novel development or a targeted response to Britain providing DU shells to Ukraine; rather, it has consistently been part of his larger strategy, and Belarus is no longer capable of resisting Russia.
3. Cybersecurity and emerging technology issues
TikTok CEO Shou Zi Chew faced US Congress members' scrutiny over the app's safety and potential Chinese government access to US data. Chew acknowledged that ByteDance engineers in China have access to some US data. Despite attempts to distance TikTok from its parent company ByteDance, Chew confirmed owning shares. With US lawmakers discussing a possible ban due to privacy and national security concerns, TikTok content creators are anxious about their future. However, TikTok maintains that its data collection is no different from other social media platforms and asserts that it operates independently of the Chinese government.
Why it matters
The debate surrounding TikTok's data handling and autonomy from the Chinese government underscores the broader discourse on protecting user privacy and maintaining national security in an increasingly digital world. A potential US ban and similar actions by other nations would significantly impact TikTok content creators and users who rely on the platform for lifestyle, entertainment, and information needs. In addition, social media and emerging technologies stakeholders, including advertisers, may need to weigh the ramifications of managing state actors' demands over data privacy and national security issues in anticipating more stringent content regulations amid their global operations across rivalling nation-states.
Please feel free to share The Deep Dive with your colleagues. We will eventually introduce a tiered subscription, and we invite you to consider becoming a free or paid subscriber to support our publication.